Description
Exxelor
General Information
Phase compatibilizers like Exxelor, a polymer functionalized with maleic anhydride (MAH), are used in compounding processes. As a compatibilizer for fillers like glass fiber or wood and an impact modifier for materials like polyamides, exxelor has many applications. The high degree of functionalization with MAH means that only trace amounts of exxelor are needed to produce a noticeable effect. Two distinct categories of exxelor exist, each defined by the polymer from which it is derived and the end use intended for the material. On the one hand, the EP (D) M / elastomer-based VA varieties are often employed to modify both reinforced and unreinforced PA compounds. In contrast, HDPE and PP (Homo / Copo) form the basis of the exterior PE / PO varieties. You can use them to combine polyolefins with fillers or polar polymers like PA.
Usage of Exxelor
The Exxelor is an excellent choice if you want to improve engineered thermoplastics' functionality and other technical polymers. These chemically modified polymers are perfect for compounding additives because they provide exceptional adhesion between nonpolar polymers and a wide variety of materials. These materials include metal, thermoset rubbers, and most polar substrates, including glass. In addition to providing excellent adhesion, the exxelor polymer resins, based on functionalized elastomeric and polyolefin polymers and produced via reactive extrusion, are excellent impact modifiers.
Exxelor
Technical data sheet & Chemical Formula
A maleic anhydride is Exxelor. The organic maleic anhydride has the chemical formula C2H2(CO)2O. It is a maleic acid's acid anhydride. It is a white or colorless solid with an unpleasant smell. It is produced on an industrial scale for use in coatings and polymers.
| | |
| --- | --- |
| Property | Value |
| Density | 0.900 g/cm³ |
| Melt Mass-Flow Rate (MFR) | 110 g/10 min |
| Maleic Anhydride Graft Level 2 | High |
| Volatiles | < 0.30 % |
Packing of Exxelor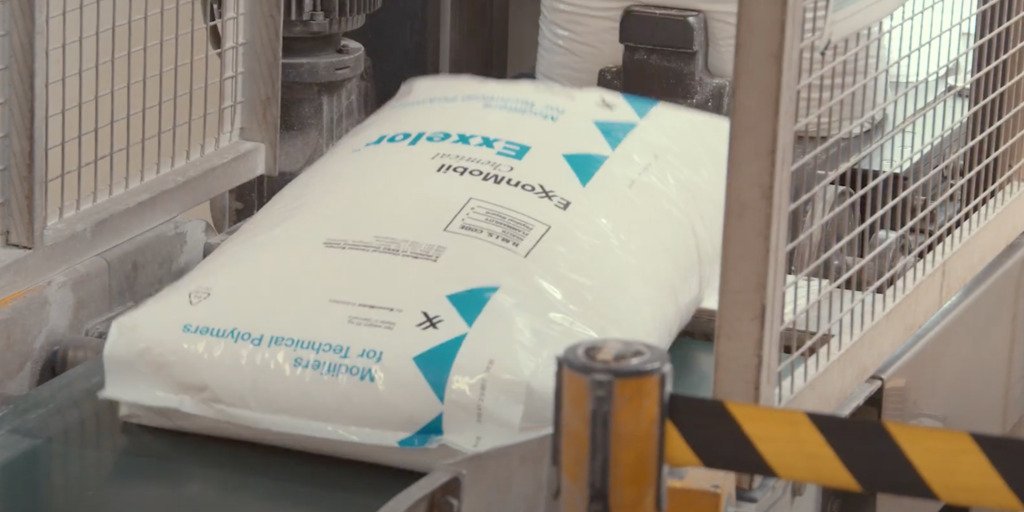 Packing
Exxelor is usually packed in 25 to 1000 kg PP bags.
Safety & warning & transportation of Exxelor
An important characteristic for some applications is that Exxelor presents relatively low-risk environmental hazards. Maleic anhydride exposure in people can irritate the skin, eyes, exposed mucosa, and respiratory tract. Additionally, a respiratory and skin sensitizer, maleic anhydride. Chemicals with a low-risk profile include maleic anhydride. Maleic anhydride is unlikely to be exposed to the environment because it hydrolyzes quickly in the presence of water to produce maleic acid. In sewage sludge, soil, and water, as well as under aerobic conditions, maleic acid is biodegradable.
Get them outside and into the fresh air, and then take them to the doctor if their symptoms continue. Get medical help if you require it. If you receive molten material on your skin, do not put ice on it; instead, cool it off with a flowing stream. If the chemical gets on the skin's surface, DO NOT attempt to wash it off. Removal could cause catastrophic damage to adjacent tissues. Seek medical assistance immediately. There must be a secure, well-equipped backup shower available at all times. If you want to pay attention to your eyes, spray water on them for a while. Keep flushing for a long time after the first minute, and don't take off your corrective lenses. If these symptoms persist, seek medical attention, particularly from an ophthalmologist. If eaten, seek medical help.
Possibility of constipation. Exxelor can be transported to any place of your choice without any particular effort. Always transport chemicals in containers that have been authorized. Always wash your hands thoroughly after handling any potentially hazardous material. Keep materials in the appropriate storage conditions, as directed on their labels. When not used, combustible substances should be kept in a cool, dry location shielded from heat and sunlight.