Description
General information about O-Xylene
Xylene is a colorless liquid with a sweet smell, flammable, and also toxic that does not dissolve in water. This chemical is used in various fields. Xylene is usually produced and delivered to consumers in three different isomers ortho (O), meta (M), and para (P). In this article, we are going to talk about O-Xylene, especially for you. These three different isomers differ from each other only in terms of structure, and all three of them are obtained from the distillation of coal, bitumen, and oil. Ortho-xylene is an aromatic hydrocarbon that is extracted from crude oil just like other xylenes. In this type of xylene, methyl groups are placed in positions one and two. In the continuation of the content, we intend to talk to you more fully about O-Xylene and its features, so stay with us.
Usage of O-Xylene
In general, O-Xylene has different uses. For example, in resin manufacturing industries, this product is used to produce polyvinyl chloride polyester resins. In addition, in medical industries, this product can be used as a precursor for making various types of medicines. In the fields of disinfection, Ortho-xylene is also used to produce different types of germicides and herbicides. The unique factors of this product have made the fields of its use very diverse and wide.
| | |
| --- | --- |
| resin manufacturing industries | used to produce polyvinyl chloride polyester resins |
| medical industries | used as a precursor for making various types of medicines |
| disinfection | used to produce different types of germicides and herbicides |
Usage of O-Xylene
Technical data sheet & chemical Formula
In general, all xylenes, especially O-Xylene, have their unique characteristics. It is important to know that the density of xylenes is lower than water. O-Xylene ( with C₆H₄(CH₃)₂ chemical formula) can also be used as a chemical solvent in various industries and has many applications in this field. In addition to its amazing features, this product is a toxic and dangerous substance, so it must be used under special conditions and by experts. Due to the presence of benzene rings in Ortho-xylene, Para-xylene, and Meta-xylene, these products have a relatively good smell. Every year, several million tons of this product are produced all over the world, which shows the popularity of this product in different industries.
| | |
| --- | --- |
| C₆H₄(CH₃)₂ | Chemical formula |
| 144 °C | Boiling point |
| 106.16 g/mol | Molar mass |
| Liquid | Form |
| Colorless | color |
How is packing of O-Xylene?
Xylenes are flammable liquids that must be stored and used under certain conditions. Usually, the manufacturers of these products sell xylenes in suitable and safe packages. You can get O-Xylene in plastic or metal barrels of several liters and use them in your desired field. Pay attention to the fact that the storage conditions of Ortho-xylene are very special, so research its storage conditions before preparing a warehouse to store this product so that you can take advantage of its amazing features more easily.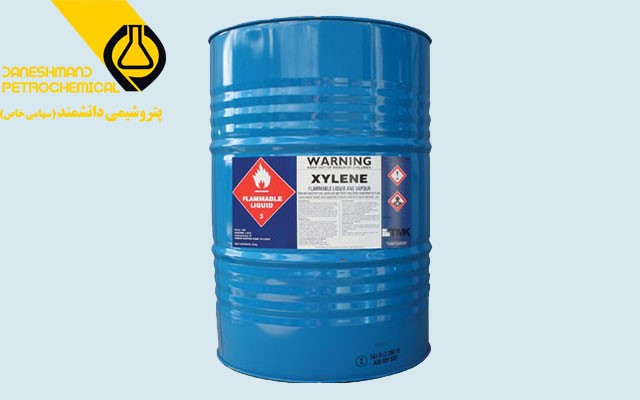 Safety & warning & transportation
O-Xylene and other xylenes are flammable and dangerous liquids that can cause many disasters with the slightest shock and heat or even electricity. In general, this substance is relatively dangerous and toxic, but its contact with the skin of the body or eyes only irritates that part. However, in case of any unfortunate incident, consult a doctor to avoid various problems. Inhalation of Ortho-xylene vapors can affect the central nervous system of humans and cause many problems. For this reason, quality masks must be used when working with this chemical product. This product should be kept away from direct sunlight and heat, as well as other factors affecting ignition. To transport this product, use containers that you are sure will prevent the passage of environmental factors such as heat, humidity, and pollution into the packaging.