Description
General information about color masterbatch pigment
Color masterbatch pigment is a chemical substance that is very important in various manufacturing industries. This product is usually marketed in granular form and is generally produced in three different categories: additive masterbatch, colored masterbatch, and filler masterbatch. Additive masterbatch can change the physical and chemical properties of the final product and generally increase the quality of the product. Color masterbatch is responsible for adding color to different types of plastic parts. But in addition to adding color, it can improve the physical and mechanical properties of the produced product to a great extent. As its name suggests, the filler is usually used to improve the properties and reduce the price of different types of products. In this context, we want to talk to you completely about color masterbatch pigment and tell you what features this product has and in what areas it is used. In general, this product is available in different colors, which makes the fields of using this product very wide.
color masterbatch pigment
Usage of color masterbatch pigment
Wherever there is a colored plastic material, color masterbatch pigment has been used. In addition to changing the color of the plastic, this product can help improve the uniformity and strengthen the overall structure of the product. It is also possible to create mixed colors from colored masterbatch. In general, if we want to talk more fully about the applications of color masterbatch pigment, we can mention the following. In consumer industries, masterbatch can be used for dyeing polyester and nylon. In addition, this product has wide uses in the production of colored disposable containers. In manufacturing industries, colored masterbatch is used wherever there is colored plastic. In the medical industry, a colored masterbatch is also widely used in the field of manufacturing different types of medical supplies and equipment.
| | |
| --- | --- |
| consumer industries | used for dyeing polyester and nylon and colored disposable containers |
| manufacturing industries | colored masterbatch is used wherever there is colored plastic |
| medical industry | manufacturing different types of medical supplies and equipment |
Technical data sheet & chemical Formula
Color masterbatch pigment (yellow) known with the chemical formula C25H21N7O5. In general, the ingredients of this product include basic polymer, additive, and compatibilizing agent. The base polymer can be composed of various types of polyethylene, polypropylene, etc. Additives can improve the properties of these products and generally increase the physical and chemical characteristics of the product to a great extent. The compatibilizing agent can also improve the thermal stability of this product. In general, color masterbatch pigment can turn the final result into a higher-quality product.  In addition to these cases, other additives are also added to all types of masterbatches to increase their quality in general. These additives can be selected according to the field of use as well as the diagnosis of the manufacturing company.
| | |
| --- | --- |
| C25H21N7O5 | chemical formula |
| solid | form |
| White, yellow green blue and… | color |
| Good (based on the quality) | stability |
How is packing of color masterbatch pigment
Different types of color masterbatch pigment are usually produced in granular form. This has made packing them very easy. Usually, the different color masterbatch pigments are packed in transparent plastic so that you can see their color from the outside. These products enter the market in transparent plastic packages with different weights. Due to the limited use of different types of colors of this product, you can also buy small packages of masterbatch colors and use them for your desired purpose.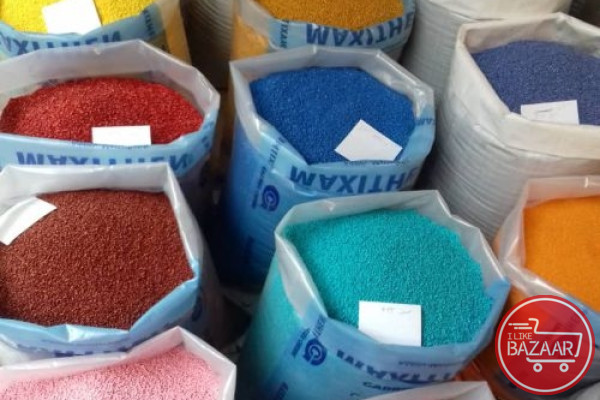 How is packing of color masterbatch pigment
Safety & warning & transportation
Color masterbatch pigment is usually produced in granular form, and that is why this substance does not require special conditions for storage. You can keep this product in any environment you want and use it to reach your goal. Note that because this product has a polymer base, it should not be exposed to sunlight for a long time. In addition, it is better to store it in a place where there is no possibility of fire and high temperature. Except for these two factors, you do not need to pay attention to other special points for transporting or storing this product.