Description
General Information on Chlorinated Polyethylene (CPE)
Chlorinated Polyethylene (CPE) is made by chlorinating polyethylene. As much as thirty percent of the weight can be chlorine. Elastomers and resins made from chlorinated polyethylene (CPE) have superior mechanical and physical qualities, including resistance to oils and chemicals and enhanced thermal stability. Compression set, flame retardancy, tensile strength, and abrasion resistance are all areas where they can excel. CPE polymers are extremely flexible and range from thermoplastic rigidity to elastomer softness. CPE can be easily combined with other plastics, including Polyethylene, EVA, and even PVC. Unlike certain mixes, the final goods from these don't require vulcanization. Hence, they maintain their dimensions properly during the manufacturing process. When compound performance and costs are paramount, CPE's good additive/filler acceptance properties might be an asset.
Usage of Chlorinated Polyethylene (CPE)
Chlorinated Polyethylene (CPE) can be used in conjunction with ethylene propylene rubber, butyl rubber, nitrile rubber, and chlorosulfonated polyethylene to create high-performance, high-quality rubber. Wires and cables, including coal-mine cable, normal-use wire, UL, and VDE, as well as hydraulic hose, automotive hose, tape, and plastic sheets, all benefit greatly from CPE modified with other rubber materials. PVC profile pipes, magnetic materials, and ABS are also adapted using CPE with rubber components. Wire and cable jacketing, roofing, automotive and industrial hose and tubing, molding and extrusion, and as a base polymer are just some of the many uses for these versatile materials.
Applications
Wire and cable jacketing

Roofing

Automotive and industrial hose and tubing

Molding and extrusion,

As a base polymer in many other industries.
Chlorinated Polyethylene (CPE)
Technical data sheet & Chemical Formula of Chlorinated Polyethylene (CPE)
High-density polyethylene can be converted into Chlorinated Polyethylene (CPE) by exchanging some hydrogen atoms for chlorine atoms (HDPE). There is a white powder form of CPE. Neither poisonous nor unpleasant in flavor. This substance is represented on the periodic table with the formula C4H7Cl. If you need a more detailed timetable, you may find it here:
| | |
| --- | --- |
| Property | Value |
| Density (g/cm3) | 1.16 |
| Surface Hardness | SA70 |
| Tensile Strength (MPa) | 12.5 |
| Flexural Modulus (GPa) | 0.002 |
| Notched Izod (kJ/m) | 1.06+ |
| Linear Expansion  (/°C x 10-5) | 18 |
| Elongation at Break (%) | 700 |
| Strain at Yield (%) | N/Y |
| Max. Operating Temp. (°C) | 60 |
| Water Absorption (%) | 0.01 |
| Oxygen Index (%) | 22 |
| Flammability UL94 | HB |
| Volume Resistivity (log ohm.cm) | 13 |
| Dielectric Strength (MV/m) | 12 |
| Dissipation Factor 1kHz | 0.1 |
| Dielectric Constant  1kHz | 5.5 |
| HDT @ 0.45 MPa (°C) | 35 |
| HDT @ 1.80 MPa (°C) | 25 |
| Material. Drying  hrs @ (°C) | NA |
| Melting Temp. Range (°C) | 150 – 170 |
| Mould Shrinkage (%) | 3 |
| Mould Temp. Range (°C) | 20 –  40 |
Packing of Chlorinated Polyethylene (CPE)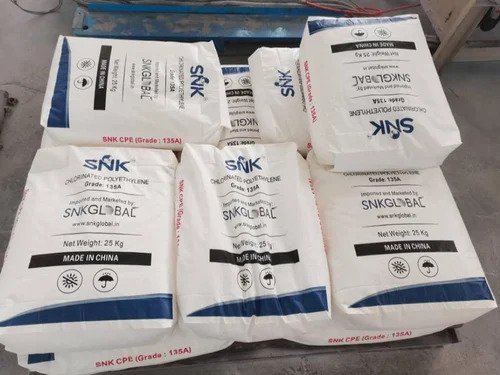 Packing
We can find Chlorinated Polyethylene (CPE) in the form of a white powder. Standard packaging ranges from 25 to 1000 kg of plastic sacks. Different market segments call for distinct bundles; thus, vendors offer a wide selection of options. The available packaging options are 25 (kg) PP bags, 25 (kg) PE bags, 500 (kg) sacks, 600 (kg) sacks, 900 (kg), and more.
Safety & warning & transportation of Chlorinated Polyethylene (CPE)
Chlorinated Polyethylene (CPE) is white, odorless, and toxic-free. If any solution gets in your eyes, flush them thoroughly for at least 15 minutes with plenty of water, including beneath the eyelids. Find a doctor immediately. If it comes into contact with the skin's surface, you should wash it off immediately and for at least 15 minutes. If you experience any of the mentioned symptoms, see a doctor right away. If you require a deep breath, go outside. After swallowing, rinse your mouth thoroughly with water and drink lots of water. If symptoms worsen, see a doctor. Put on your safety gear, including a mask if necessary. Make sure there is enough airflow. Keep somewhere cold and dry. Keep it away for direct sunlight. Keep away from corrosive substances, and shield from harm's way.