Description
General information about PC
Polycarbonate or PC is a member of the family of thermoplastic polymers and is widely used in the fields of molding. This product is a plastic and a very practical chemical that has unique properties. This product is transparent, resistant, and anti-impact, and these three features made polycarbonate widely used in various industries. It was for the first time in 1953 that polycarbonate resin was made and it reached mass production about 5 years later. About 10 years later, the production of polycarbonate sheets flourished and began to be widely used all over the world. The structural diversity of this product has caused various industries to use this chemical substance as a main raw material.
Usage of PC
PC is currently widely used in construction. In the construction industry, this product is used to produce roofs of greenhouses, parking lots, swimming pools, sports studios, etc. In addition, this product can be used to build shed walls, pedestrian bridge covers, partition walls, canopies, etc. Polycarbonate is widely used in the automotive industry to produce different types of car parts. In the military industry, this product can also be used to produce the coating of various weapons. In general, PC is known as a widely used material in various industries. For this reason, many manufacturers around the world produce this product. In addition to the mentioned cases, this chemical substance is used to produce bulletproof glasses, eye lenses, car lights, ampoules, hats, compact discs, etc.
| | |
| --- | --- |
| construction industry | used to produce roofs of greenhouses, parking lots, swimming pools, sports studios, etc. |
| automotive industry | used to produce different types of car parts |
| military industry | be used to produce the coating of various weapons |
Usage of PC
Technical data sheet & chemical Formula
PC is known by its chemical formula C15H16O2. This product is one of the derivatives of plastic and is very resistant to direct heat. Against these factors, polycarbonate does not undergo any chemical changes and melts slowly without causing a fire. This issue has increased the safety of this product for use in the construction industry. This product is currently used instead of glass in various fields for various reasons such as hardness, extraordinary resistance, as well as transparency. Due to the presence of various polymers of the carbon group, polycarbonate has the necessary temperature resistance, structural strength, and transparency. This product is usually produced in sheets, but its raw material is also available in granular form. This chemical is unbreakable and flexible and has very high resistance.
| | |
| --- | --- |
| CHEMICAL FORMULA | C15H16O2 |
| FREEZING POINT (F) | 220 – 230 °C |
| MELTING POINT | 428 – 446 °F |
| SOLUBILITY IN H2O | Insoluble |
How is packing of PC?
We told you earlier that PC is one of those chemical products that usually reach customers in sheet form. If this product is to be used in manufacturing industries, manufacturers buy granule forms. Polycarbonate granules are usually marketed by manufacturers in 25 kg bags. You can get this product in these bags and use it in your desired field. To maintain the quality of this product, sealed and high-quality packages are usually used to supply polycarbonate to the market.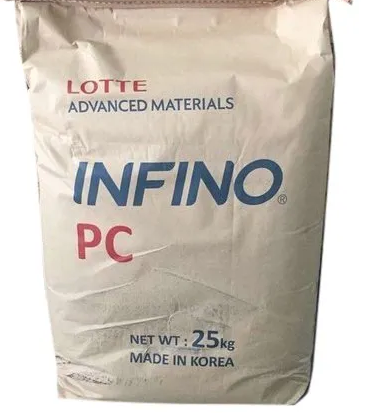 How is packing of PC?
Safety & warning & transportation
PC is a chemical material that has relatively good resistance. This issue has made the process of storing it a low-cost and simple action. Of course, it is better to care about the quality of this product when choosing the desired warehouse. For example, safety and health factors are among those points that must be taken into consideration. It is better to use appropriate masks and covers to work with this chemical because this product can be harmful to human health. To move this product, it is better to pay attention to the safety factors so that you can move the product to your desired location without any problems.