Description
General information about Sulfur
Sulfur is one of the main natural elements that is located on the left side of chlorine below oxygen and above selenium in the periodic table, and the chemical symbol of this product is S and its atomic number is 16. The exact time of discovery of this product is not known. This element is known as a smelly and bad-tasting non-metal, which is polyvalent. Sulfur is found in abundance in the form of yellow crystals all over the world and can be used in many different fields. This product is considered an important element for the life of all living organisms and plants and is widely used for making gunpowder, matches, and insecticides. The largest reserves of this chemical element are in Canada, Holland, Spain, China, and America. In this article, we intend to talk to you completely about this chemical and its unique features. If you also want to improve your information in this regard, stay with us.
Usage of Sulfur
In agriculture, Sulfur is used to produce different types of fertilizers. The highest consumption of Sulfur is in agricultural lands all over the world.  This product is considered the most important mineral for plant growth and can be widely used to make chemical fertilizers healthy and nutritious. In the medical industry, this product can be used to produce antioxidants, anti-allergic substances, and some medicines. In addition, this product is widely used in the weapons industry for the production of gunpowder. This mineral has many wide applications and is known as one of the most important elements around the world.
| | |
| --- | --- |
| agriculture | used to produce different types of fertilizers |
| medical industry | used to produce antioxidants, anti-allergic substances, and some medicines |
| weapons industry | Use for the production of gunpowder |
Usage of Sulfur
Technical data sheet & chemical Formula
Sulfur has a characteristic yellow appearance, and this product is usually found as crystals but is used after being powdered.  This element is found in yellow color and has a smell similar to rotten eggs. This product does not dissolve in water, but it can be dissolved in many chemicals such as carbon disulfide. This chemical is very light and soft and burns with a blue flame. As we told you before, this main element is usually known as various compounds and is used after purification.
| | |
| --- | --- |
| Symbol | S |
| Atomic mass | 32.065 u |
| Atomic number | 16 |
| Melting point | 112.8 °C |
| Chemical series | Nonmetal, Chalcogen, Period 3 |
How is packing of Sulfur?
Sulfur has a solid and powdery state, that's why it is usually sold in plastic or paper bags. You can usually get this product in 25 kg bags and use it in your desired field. If you are looking for wider use of this product, you can prepare larger and more voluminous packages of this element and use it. This chemical requires special conditions for storage, so it is better that you pay attention to various factors when storing this product. According to the field of use, go for the highest quality and most suitable type of Sulfur produced so that you can increase the quality of the produced product in the end.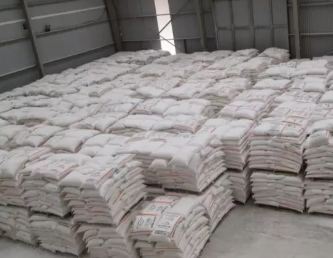 How is packing of Sulfur?
Safety & warning & transportation
Sulfur is a natural element, but long-term exposure to this chemical can cause many problems.  For example, heart diseases, harmful effects on vision, reproductive failure, stomach disorders, etc. are among those factors that may occur in the long term. For this reason, it is better to use high-quality gloves and masks when working with this product so that there are no problems for the workers. This product should be placed in a place away from pollution and irritating factors such as fire. To store this product, consider a suitable and safe place so that you can use this chemical element in your desired land without any problems. To transfer this chemical, you must be careful so that the packaging of this product is not damaged.