Description
TEA
General Information
Viscous, colorless, pale yellow liquid with a faint ammonia smell; this describes Triethanolamine or TEA. Copper, copper alloys, galvanized iron, acids, and oxidizers are all things you should stay away from when working with triethanolamine. It is a unique molecule because it combines the properties of a tertiary amine and a triol. Triol refers to a molecule that contains three alcohol groups. In 1999, production reached around 150,000 tons. Although some samples may appear yellow due to impurities, the compound is colorless. Several countries produce triethanolamine, and reports indicate that as many as six companies in India make it. Triethanolamine is made on a massive scale around the world and has numerous industrial applications.
As a corrosion inhibitor in metal-cutting fluids, a curing agent for epoxy and rubber polymers, a copper-TEA, an emulsifier, thickener, and wetting agent in the formulation of consumer products like cosmetics, detergents, shampoos, and other personal products, and a neutralizer-dispersing agent in the formulation of agricultural herbicides are just a few of the many industrial uses for triethanolamine. Metalworking liquids, oils, fuels, paints, inks, concretes, cosmetic and personal products, and formulations of algicides and herbicides are just some of the many products that benefit from triethanolamine's anti-corrosion properties, surface-active agent, and intermediate status.
Usage of TEA
TEA is used in emulsions with mineral and vegetable oils; dry cleaning; cosmetics; shampoos; creams; waxes; cutting oils; household detergents; scouring wool; textile antifume agent; water repellant; dispersant; corrosion inhibitors; softeners; emulsifier; humectant; plasticizer; a chelating agent; rubber accelerator; pharmaceutical alkalizing agent; a catalyst for condensation, etc. Many products, such as metalworking cutting fluids and color film developers, include the emulsifying agent triethanolamine. Mono- and diethanolamine, which also contain ethanol, may contain traces.
When combined with fatty acids, triethanolamine acts as an emulsifier in various cosmetic products, including creams, lotions, skin cleansers, and shampoos. Additionally, triethanolamine is used in producing herbicides and pesticides, as an antistatic agent in the textile industry, for metal plating, and in alkaline derusting formulations. In addition to its use as a surface active agent in cutting fluids, triethanolamine also has several other potential applications, including as an absorption agent for acidic gasses in air pollution control, as a component of coatings for fruits and vegetables, as a solvent for casein, shellac, and dyes, and as a penetrating agent for organic liquids in wood and paper. Triethanolamine is commonly used to create emulsions, which have many applications in the topical pharmaceutical industry. A wide variety of products, including surfactants, textile specialties, waxes, polishes, herbicides, demulsifiers for petroleum, sanitary products, cement additives, and cutting oils, use triethanolamine as a production intermediate.
Applications
Solvents

Medical Industry

Textile industry

Emulsifying agent

and…
TEA
Technical data sheet & Chemical Formula
A tertiary amino compound, TEA is essentially ammonia with a 2-hydroxyethyl group swapped for each hydrogen atom. It is an odorless, colorless, oily liquid. This substance is hygroscopic and has an offensive, ammonia-like odor. It absorbs water easily and turns brown when exposed to air and light. As the temperature drops, it transforms into a colorless or very light yellow cubic crystal. It can be easily diluted with methanol, acetone, and water. It dissolves in water, methanol, acetone, benzene, ether, carbon tetrachloride, and n-heptane. It is a strong alkaline and can be used for condensation reactions. C6H15NO3 is the chemical formula.
Physical state and appearance: Liquid.

Odor: Ammoniacal

Taste: Not available.

Molecular Weight: 149.19 g/mole

Color: Colorless to light yellow.

pH: 10

Boiling Point: 335°C

Melting Point: 21.5°

Specific Gravity: 1.12
Packing of TEA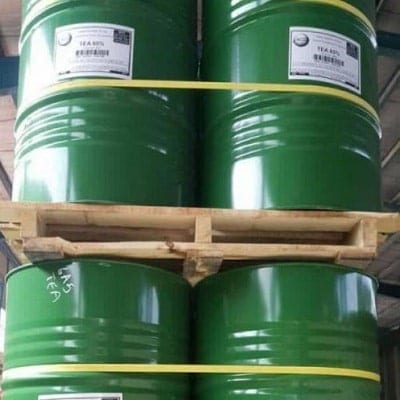 Packing
TEA is packed in 130 to 1000 liters drums.
Safety & warning & transportation of TEA
Animals exposed chronically to TEA showed evidence of liver and kidney damage. It is moderately toxic by the intraperitoneal route and mildly toxic by ingesting. It is an eye irritant and is a human and experimental skin irritant. It is a questionable carcinogen with empirical carcinogenic evidence. It is a flammable liquid when exposed to heat or flame; it can react vigorously with oxidizing materials. In firefighting, use alcohol foam, CO2, and dry chemicals. Triethanolamine is primarily used as an emulsifying agent in topical pharmaceutical preparations. The triethanolamine in formulated products may cause hypersensitivity or irritation to the skin even though it is generally considered non-toxic.