Description
General Information 
Glycerin, or glycerol, is a natural chemical that can be made from either vegetable oils or animal fats. This pleasant liquid is transparent, odorless, and colorless. It is a moisturizing agent known as a humectant, which draws moisture from the air and deeper layers of skin to the surface. When combined with occlusives, another type of moisturizing ingredient, glycerin in skin care products, can help to lock in the moisture it draws into the skin. A 2016 study found that glycerin is "the most effective humectant" for improving the moisture level of the skin's surface. The molecules are the key to understanding everything. To be more precise, glycerin is an alcohol whose molecules have the shape of a little crown, with three drops of alcohol at the top and three carbons at the bottom. It may absorb a large amount of water because it only requires a single drop of alcohol per carbon.
Usage of Glycerin
Among the many sectors that put Glycerin to good use is Soap: Many soaps include glycerine as an ingredient, although soapmaking is an unusual means of generating the substance. Glycerine, the trade name for glycerol, is occasionally even formulated by chemists in industrial soap production. Care Products for Your Hair and Skin: Glycerol is commonly found in lotions, conditioners, and shampoos designed to hydrate the skin or hair since it is a humectant that can attract and bind moisture to it. It is commonly found in shampoos designed to alleviate dandruff and itchy scalp because it prevents the hair from drying out and breaking. It has several uses in the kitchen, and it's no surprise that it's often added to food. It can be used as a sweetener because it is a sugar alcohol; however, it is only about 60% as sweet as sugar. It has a lower potential for causing a laxative effect than other sugar alcohols, such as sorbitol and mannitol, and is, therefore, more widely used.
Glycerin increases the acceptability of medicines like cough syrups and tablets due to its naturally sweet taste. The sweet taste isn't the only reason it's used in pharmaceuticals; it also makes for a great thickening in topical ointments—suppositories made of glycerine help the digestive process by drawing water from the colon. Eye drops, ear drops, and gel capsules use glycerine as an excipient, a neutral carrier for the active components. It is used widely in manufacturing paints, inks, and plastics. For instance, it was once the primary component of antifreeze but has since been mostly replaced by other compounds that don't taste as sweet and hence don't attract and kill animals when they spill on the ground. Vegetable glycerine is a frequent foundation in vaping fluids for e-cigarettes, and some users prefer them because the resulting aerosol is more visible.
Applications
Soap

Hair and Skin Care Products

Food

Pharmaceuticals

Paints, Inks and Plastics

Vaping Liquid
Glycerin
Technical data sheet & Chemical Formula
Polyols, such as Glycerin (pronounced GLIH-sir-in), are a class of carbohydrates. Glycerol, the three-carbon backbone of a triglyceride, is also known as glycerin. It is created naturally and artificially through the fermentation of yeast, sugar, or starch, but most of the glycerin we consume comes from the hydrolysis of fats and oils. It is a component in many foods and drink items because it helps keep the product wet, stops sugar from crystallizing, and gives it body, softness, sweetness, and texture. Like most sugar alcohols, this material is not as sweet as sugar, coming in at anywhere between 60 and 75% sweet. Calories-per-gram for glycerin is higher (4.32 vs. 3.94 for sugar) than for any other sugar alcohol (3.87). Its chemical formula is C3H8O3.
Physical state and appearance: Liquid

Odor: Mild

Taste: Sweet

Molecular Weight: 92.09 g/mole

Color: Clear Colorless

PH Not available

Boiling Point: 290:C

Melting Point: 19:C

Specific Gravity: 1.2636

Vapor Pressure: 0 kPa

Vapor Density: 3.17

Volatility: Not available
Packing of Glycerin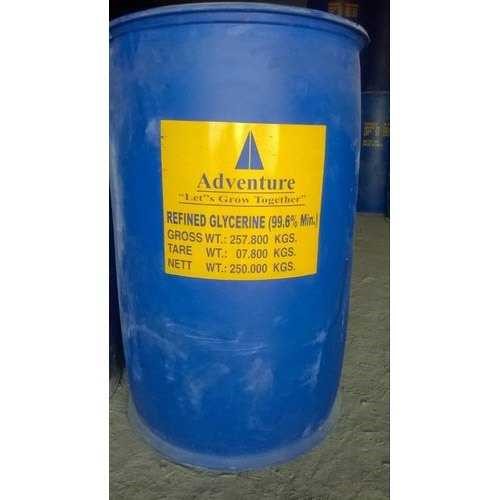 Packing
Glycerin is usually packed in 25 to 500 kg drums.
Safety & warning & transportation of Glycerin
Health authorities from the United Nations, the European Union, and other nations like Australia, Canada, and Japan have all studied Glycerin and certified its safety in food. It has been approved as safe for human ingestion by the FDA in the United States. While it is generally established that glycerin (and other sugar alcohols) are harmless, consuming large quantities of some sugar alcohols (such as mannitol and sorbitol) can lead to gastrointestinal distress, such as gas, bloating, and diarrhea. Therefore, a warning concerning possible laxative effects should be included in any packaged food containing mannitol or sorbitol. Products containing glycerin do not need a warning label because it is well-tolerated at current consumption levels.