Description
Styrene-Ethylene-Butylene-Styrene
General Information
An important class of thermoplastic elastomers (TPEs), Styrene-Ethylene-Butylene-Styrene (SEBS), can mimic the properties of rubber without being vulcanized. When it comes to heat and ultraviolet light resistance and ease of processing, SEBS shines. Improved thermal stability, weathering and oil resistance, and steam-sterilization capacity are all results of the selective hydrogenation of styrene-butadiene-styrene copolymer (SBS). However, the price of the polymer goes up, and the mechanical performance goes down after hydrogenation. Elastomers made from SEBS are frequently mixed with other polymers to improve their functionality. Clear polypropylene and other engineering thermoplastics employ them as impact modifiers. Adding oil and fillers can reduce prices and alter the properties.
Usage of Styrene-Ethylene-Butylene-Styrene
The Ethylene Styrene Compound, However, the performance of pressure-sensitive and other adhesive applications can be enhanced by using Styrene-Ethylene-Butylene-Styrene (SEBS). These items find their way into various applications, including medical and sports gear, hygiene products, and automobile components. Of course, it's also in tapes, labels, plasters, adhesives, sealants, varnishes, and paints for road markings. Hot-melt pressure-sensitive adhesives, toy components, shoe soles, and TPE-modified bitumen products are widely used in various industries.
Applications
Consumer products

Medical and Health

Automotive

Kitchen and Household
Styrene-Ethylene-Butylene-Styrene
Technical data sheet & Chemical Formula
Styrene butadiene styrene (SBS) block copolymers and Styrene-Ethylene-Butylene-Styrene (SEBS) terpolymers form the backbone of thermoplastic styrene elastomers (TPS). Even though SBS and SEBS are both raw materials, the two terms are frequently used interchangeably when describing the characteristics of the respective compound. Thermoplastic elastomers have been around for roughly fifty years. When this was discovered, anionic polymerization became a useful tool in producing block copolymers. This allowed the precise construction of polymer chains comprising a series of styrene repeat units. These were followed by a block of styrene units and a string of butadiene repeat units. It turned out to be a block copolymer of SBS.
Thermoplastic styrene building blocks are chemically coupled with an elastic polymer building block to create styrene block copolymers. Hydrogenation of SBS results in SEBS. The ethylene and butylene mid-blocks are formed by removing CC double bonds from the butadiene moiety. This transformation improves SEBS thermal stability and weather resistance while preserving its mechanical properties to a large extent. C20H22 is the chemical formula.
| | |
| --- | --- |
| Density | 0.90 |
| Shore A | 95 |
| Abrasion resistance – mm3 | 95 |
| Tear strength – KN/m | 60 |
| Elongation at Break | 600% |
| Tensile Strength – MPa | 11.4 |
| Shrinkage | 0.4% – 2.0% |
| Resistant to | Water, Aqueous Solutions, Strong Acids |
| Not resistant to | Oils, Fats, Petrol, Alcohols, Glycols, and Freon |
Packing of Styrene-Ethylene-Butylene-Styrene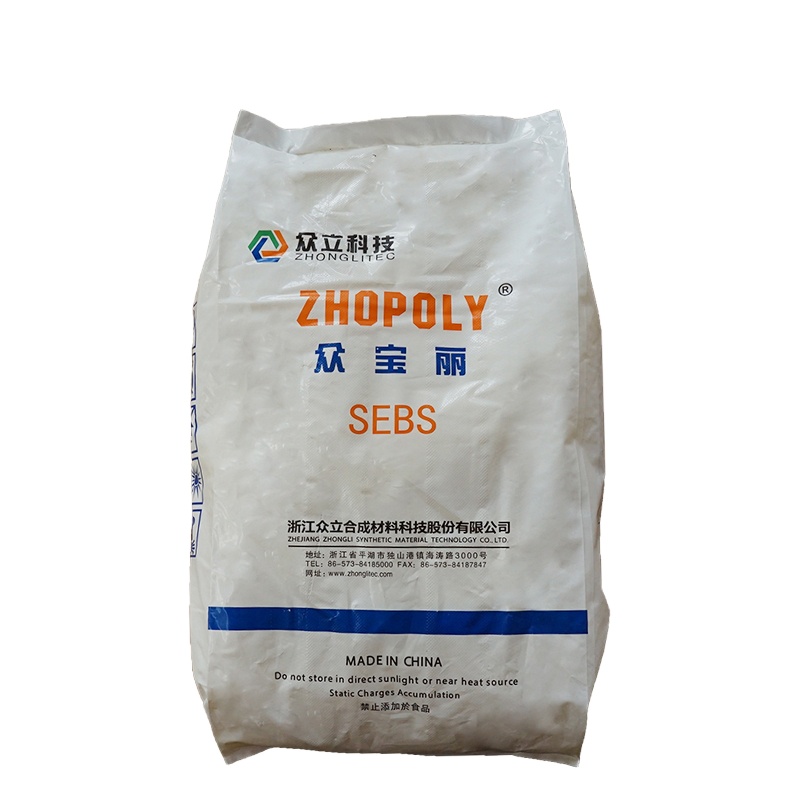 Packing
Styrene-Ethylene-Butylene-Styrene is usually packed in 15 to 250 kg PP or woven bags.
Safety & warning & transportation of Styrene-Ethylene-Butylene-Styrene
Styrene-Ethylene-Butylene-Styrene has been deemed non-hazardous, following the regulations outlined in the hazard communication standard, 29 CFR 1910.1200. Take them outside into the sunshine; if their condition worsens, you should see a doctor.
In other words, seek medical attention if you feel you need it. Instead of using ice to cool off a burn, you should stand under a fast-moving stream. If any chemical ends up on your skin, DO NOT attempt to remove it with water. Injury to the surrounding tissues is a real possibility during removal. Get checked out right away. Safe and functional emergency shower facilities should be easily accessible at all times. One of the prominent ways to really take care of your eyes is to splash water in them every so often. Don't stop flushing after the initial second, and keep your contacts in while you do it. If the symptoms persist, see a doctor—preferably an ophthalmologist. Get medical help right away if swallowed. Potential to cause constipation. You don't have to take any special measures to get it from A to B.