Description
Tafmer
General Information
Based on Mitsui Chemicals' proprietary technology and cutting-edge expertise in polyolefin and rubber, Tafmer is a low crystalline or amorphous-olefin copolymer. TAFMER is more flexible, has a lower melting point, and has a lower modulus than polyethylene(PE) or polypropylene. TAFMER is a resin modifier that significantly enhances the material's properties. It is also used as a moldable material that is both flexible and lightweight. Automobile components, packaging materials, sports goods, electric wires, civil engineering materials, construction materials, stationery, everyday necessities, etc., all find applications for TAFMER.
Usage of Tafmer
There are a lot of applications for Tafmer, like cars, factories, and even packaging. TAFMER can serve as a foundation for a wide variety of adaptable goods. Cast and blown film extrusion coating, pipe extrusion, injection molding, blow molding, foaming, and calendering are just some of the methods that can be used to process this material. This grade of TPO from Mitsui Chemicals is a specialty ethylene-based -olefin elastomer. Displays excellent transparency, impact resistance at low temperatures, surface gloss, and low specific gravity. The filler is effectively kept in place, foamed, painted, and cross-linked. Qualities desirable in a good elastic material include a low melting point and a soft texture. Because it does not dissolve in water, injection molding is a viable processing option. Used for vehicle bumpers and control panels.
Applications
Automotive

Packaging

Industrial

Wire & Cable

Engineering

Plastics Molds

Shoes and Sportswear
Tafmer
Technical data sheet & Chemical Formula
Tafmer alpha-olefin copolymer can be used in various settings due to its ability to retain its original properties even after exposure to UV light. There is no other polyolefin on the market quite like ethylene/alpha-olefin copolymer products when it comes to boosting impact strength and adaptability. TAFMER A, for instance, can be used as a coating for fire-resistant wire or cable because of its remarkable flexibility, high tensile strength, and low-temperature impact strength. TAFMER P, on the other hand, can be applied to increase the resilience of PP bumpers and other forms of food packaging to impact. Mitsui's TAFMER XR propylene/alpha-olefin copolymer is an excellent low crystalline copolymer of propylene and alpha-olefin that is useful as a resin modifier for polyolefins and as a biaxially oriented polypropylene (PP) and cast film sealant. Tobacco, chocolate, cookie, and cracker packages are tightly and securely sealed with TAFMER XM when used as a heat seal layer for OPP film. (CH2CHR)n is the chemical formula.
| | |
| --- | --- |
| Physical Properties | Unit |
| MFR(190℃/2.16kg) | g/10min |
| Density | kg/m3 |
| Tensile Strength at Break | MPa |
| Elongation at Break | % |
| Torsional Rigidity | MPa |
| Melting Point | ℃ |
| Brittleness Temperature | ℃ |
Packing of Tafmer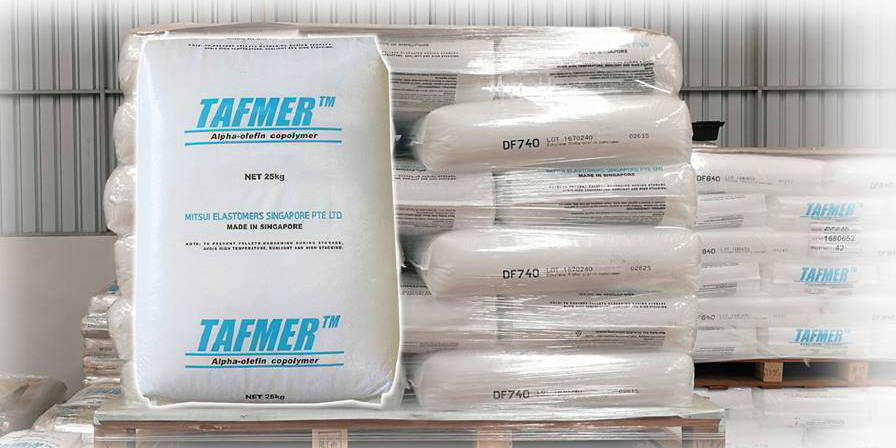 Packing
Tafmer is usually packed in 25 to 500 kg PP or woven bags.
Safety & warning & transportation of Tafmer 
According to the hazard communication standard, Tafmer is nonhazardous. Take them outside for some fresh air, and if their symptoms persist, take them to the doctor. If you need medical assistance, seek it. If you get molten material on your skin, do not apply ice; instead, cool off in a swift-moving stream. If the chemical makes contact with your skin, DO NOT attempt to remove it. Removal may result in severe damage to the surrounding tissues. Obtain medical care immediately. A secure, well-equipped emergency shower must always be accessible. If you truly want to take care of your eyes, splash them with water for a few moments. Continue flushing for an extended period after the initial moment, and do not remove your contact lenses. If these symptoms persist, seek medical attention, specifically from an ophthalmologist. If ingested, seek medical attention immediately. Constipation possibility. There are no special requirements for transporting it.