Our Productions
CONTACT
Address:Unit#E,2nd Floor No.55,Allameh Tower, North Allameh St, East Sarv St.kaj Square,Saadat-Abad Ave,Tehran, Iran.
Calling Time:
Saturday to Wednesday from 9 Am to 5 Pm & Thursday 9 Am to 1 Pm- Iranian local time is + 3.5 Hrs (GMT).
Tel:
+9821 - 22063227
+9821 - 22092057
+9821 - 22099131
Email:
POE
Description
General Information
Polyolefin elastomers (POE) are a copolymer with butene or octene comonomers synthesized using metallocene catalysis. POEs are distinguished by their softness, lightness, and great impact/toughness resistance. As a rule, these resins are used in compounding applications, where they enhance the impact quality and performance of polypropylene- or polyethylene-based compounds, but they can also be employed on their own to create molds or extrusions with exceptional softness and flexibility. Polyolefin elastomers are excellent impact modifiers for plastics, may be used with a wide range of olefinic materials, and provide outstanding performance in compounded goods.
Usage of POE
Polyolefin elastomers (POE) have become an industry standard in less than a decade, finding use in a wide variety of products, including wire and cable, extruded and molded goods, film applications, medical goods, adhesives, footwear, and foams, as well as exterior and interior of automobiles (primarily in thermoset olefins TPOs via impact modification of polypropylene). Polyolefin elastomers are widely recognized as one of the most important materials in various industries. Products such as extrusion coatings, films, compression molding, medical devices, adhesives, footwear, and foams can benefit from this technique. The exteriors and interiors of automobiles can also take advantage of this method.
Applications
Sound deadening applications
Impact modification
Rigid / Flexible packaging
Shoes
Foams
Wire and cable
Automobile
Filler masterbatch and compounds
TPO roofing
POE
Technical data sheet & Chemical Formula
Most polyolefin elastomers (POE) on the market today are ethylene-butene or ethylene-octene copolymers. Products come in all shapes and sizes, from amorphous to crystalline, with molecular weights ranging from very low to very high. As the principal polymer or a value-adding element in compound formulations, polyolefin elastomers are frequently favored over competing options due to their versatility. In pellet form, it may be used in either batch or continuous compounding processes; it has excellent elasticity, hardness, and low-temperature flexibility. Saturated polymers with high heat stability and UV resistance; recyclable; developed to maximize processing and application performance.
| | |
| --- | --- |
| Property  | Nominal Value |
| Density | 0.866 g/cm³ |
| Melt Index (190°C/2.16 kg) | 5.0 g/10 min |
| Tensile Modulus | 218 psi |
| Tensile Strength (Break, Compression Molded) | 421 psi |
| Tensile Elongation | 1200 % |
| Tear Strength | 126 lbf/in |
| Hardness | 60 |
| Glass Transition Temperature | -79.6 °F |
| Melting Temperature ( | 246 °F |
Packing of POE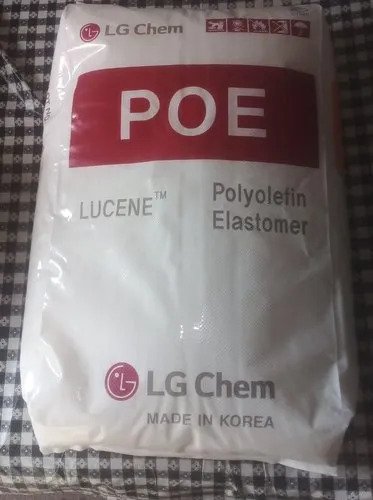 Packing
POE is usually packed in 25 to 1000 kg PP bags.
Safety & warning & transportation of POE
The POE is deemed completely safe for usage in accordance with the Hazard Communication Standard. They should be moved to an outdoor setting. If their condition continues to deteriorate, they should be sent to the doctor. If you have skin that has been burned or otherwise damaged by contact with molten material, do not apply ice to it; instead, cool off in a swift-moving stream. Showering is NOT a method that can be used to eliminate the chemical. The process of removal could cause damage to the tissues that are nearby. I implore you to get medical attention as soon as possible. At all times, there should be access to a secure and well-stocked emergency shower that has been locked. Splashing the eyes with water is an excellent approach to provide them with the much-needed TLC required.
Do not stop flushing after the first second; continue doing so for a significant amount of additional time before removing your contact lenses. If the symptoms do not go away, you should seek medical attention, preferably from an ophthalmologist. In the case that someone accidentally ingests it, getting medical help as soon as possible is strongly suggested. The possibility of having constipation. It does not require any special preparations in order to be transported. But after handling this material, you should wash both your hands with soap and water and then dry them after five or six minutes. This substance is safe, but you better consider this tip.
reference : iranpetrochemical