Description
General Information 
PP Random Copolymer can be made by polymerizing propylene by adding ethylene or butene linkages. The resins' great variety of properties makes them useful in numerous contexts. Random copolymers are a form of copolymer in which two different molecular chain types are utilized to produce plastics with unique qualities that would not be possible with each chain type alone. Polymers are solid formations made up of chemically connected chains of molecules called monomers. A random copolymer is a combination of two monomers that do not have a consistent or regular structure of the two monomers, as will occur under certain production conditions. The molecular structure of the plastic is altered when polypropylene and polyethylene are combined to form a random copolymer. Polymers can be made transparent under the right processing circumstances, making them an excellent choice for food storage containers. Compared to pure polypropylene, the melting point of these formulations can be kept lower, which can speed up the production process.
Usage of PP Random Copolymer
Because of PP Random Copolymer adaptability, random copolymers can be used in place of more expensive materials to construct structures that carry hot and cold water. By improving their appearance through clarification, Random copolymers can be used in rigid, long-lasting applications like food savers and sports bottles, where their low weight, high clarity, resistance to impact, odor, and heat, and low cost make them superior alternatives to glass and other plastics. Also, Plastics that could be recycled were in higher demand as late 20th-century metal and plastic recycling grew more popular. Different random copolymer materials were melted and extruded into the initial package shapes. They could all be recycled in the same way. The rising cost of petroleum-based raw materials necessitated greater plastic recycling, allowing manufacturers to cut expenses.
Applications
High clarity/transparency packaging

Injection molding

Blow molding

Cast, BOPP, and blown film

Pipe

Thermoforming
PP Random Copolymer
Technical data sheet & Chemical Formula 
The monomer residues in a PP Random Copolymer are dispersed throughout the polymer chain. The copolymers are more soluble and flexible than poly(vinyl chloride) homopolymers. The vinyl acetate concentration of such materials is between 3% and 40%. Used mostly in surface coatings and products where outstanding flow and reproduction of mold surface details are required, homopolymers with the same level of polymerization can be mechanically molded at lower temperatures. PP Random Copolymer has the chemical formula P. (3HB-co-3HV).
| | | |
| --- | --- | --- |
| Properties | Value | Unit |
| Melt Index | 45 | g/10min |
| Density | 0.90 | g/㎤ |
| Tensile Strength at Yield | 300 | kg/㎠ |
| Flexural Modulus | 11,000 | kg/㎠ |
| Notched Izod Impact Strength(23℃) | 6.0 | kg·cm/cm |
| Rockwell Hardness | 90 | R-Scale |
| Heat Deflection Temperature | 90 | ℃ |
| Haze(2mm) | 20 | % |
Packing of PP Random Copolymer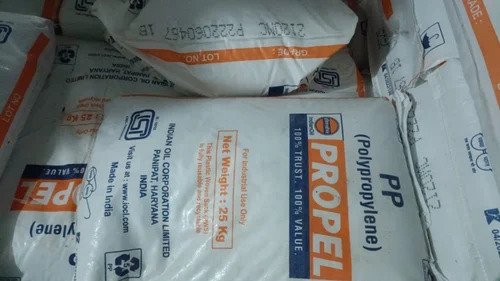 Packing
PP Random Copolymer granules are packed in 25 to 1000 kg pp bags. Some manufacturers use woven bags or Kraft paper bags instead of PP ones.
Safety & warning & transportation of PP Random Copolymer
According to European Economic Community (EEC) directives 67/548/EEC and 1999/45/EC, PP Random Copolymer does not qualify as hazardous. When trying a rescue or administering first aid, think about your safety and those around you. Product spray, fumes, and vapors from burning or heating: Go outside and breathe fresh air. Please get aid immediately. Cold water should be applied directly after touching the molten substance. Do not attempt to remove a product that has hardened from the skin by pulling. Holding the eyelids open, cleanse the eyes thoroughly for a long time. Wash with lots of water until the irritation from the fine dust goes away if you get it.
If molten polymer gets into your eyes, immediately and repeatedly flush them with cool flowing water for at least fifteen minutes. Do not try to remove anything stuck in your eye other than by flushing (s). Get yourself to a doctor right now. You should keep this away from direct sunlight and keep the temperature below 40 degrees centigrade. Pre-drying is suggested when condensation is present or expected. (Air-dried at 80-100 degrees Celsius for 2 to 4 hours.)