Description
General Information
Polystyrene, made from a styrene monomer, is a transparent synthetic thermoplastic. It comes in two common types: solid plastic and firm foam. Films and sheets of it can be reworked into a wide range of items thanks to its primary property of softening when heated. Because of its widespread use, it is one of the most widely traded plastic commodities (making up around 7% of the worldwide thermoplastic market). Petri dishes, vials, household products, containers, CDs, smoke alarms, and other products made from PS's solid plastic form are commonplace in hospitals and other medical facilities.
Usage of Polystyrene
Polystyrene (solid and foam) is used frequently in constructing various home appliances such as refrigerators, air conditioners, ovens, microwaves, vacuum cleaners, and blenders due to the material's inertness (it does not react with other materials), low cost, and extended lifespan. Knobs, instrument panels, trim, energy-absorbing door panels, and sound-dampening foam are some of the many automotive elements that may be made from polystyrene (solid and foam). Foam polystyrene is also commonly used in car seats for the safety of children. Because of its ability to combine form, function, and aesthetics, polystyrene is used for the housing and other sections of televisions, computers, and all IT equipment. polystyrene food service packaging is widely considered to be the most cost-effective, eco-friendly, and insulating option. Polystyrene, which is lightweight but provides great thermal insulation, is used in many places. These include walls and roofs of buildings, as well as refrigerators, freezers, and industrial cold storage facilities. Insulation made of polystyrene is non-toxic, long-lasting, and impervious to moisture.
Tissue culture trays, test tubes, Petri dishes, diagnostic components, housings for test kits, and medical gadgets are just a few uses for polystyrene in the medical field because of the material's transparency and transparency and simplicity of sterilizing. Many common household items have polystyrene (solid and foam) packaging to keep them safe during transport. To prevent breakage and spoiling, polystyrene is commonly used in producing CD and DVD cases, shipping foam peanuts, food packaging, meat/poultry trays, and egg cartons.
Applications
Product Packaging

Medical Field

Insulation

Food Industry

Electrical and Electronic Devices

Auto Parts

Household Goods
Polystyrene
Technical data sheet & Chemical Formula
The polymerization of styrene yields Polystyrene, a tough, rigid, and very transparent synthetic resin. Foamed cups, plates, and bowls are commonly used in food service as wooden trays, containers, and disposable dining utensils. Numerous crucial plastic and rubber items benefit from the toughness and stiffness of copolymerizing polystyrene with other polymers. Polystyrene has the formula (C8H8)n.
| | |
| --- | --- |
| Property | Value |
| Technical Name | (PS) |
| Chemical Formula | (C8H8)N |
| Melt Temperature | 210-249 °C (410-480 °F) |
| Typical Injection Molding Temperature | 38 – 66 °C (100 – 150 °F) |
| Heat Deflection Temperature (HDT) | 95 °C (284 °F) at 0.46 MPa (66 PSI) |
| Tensile Strength | 53 MPa (7700 PSI) |
| Flexural Strength | 83 MPa (12000 PSI) |
| Specific Gravity | 1.04 |
| Shrink Rate | 0.3 – 0.7 % (.003 – .007 in/in) |
Packing of Polystyrene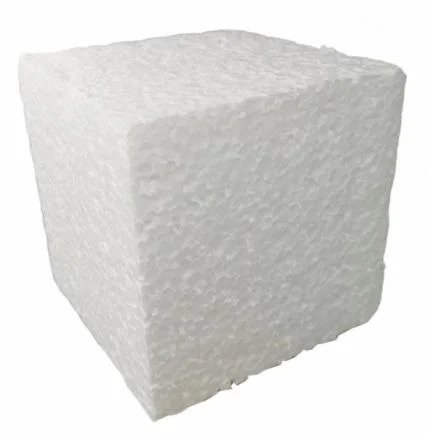 Packing
Polystyrene is usually packed in cartons of 10 to 500 kg. The packaging differs depending on various types of polystyrene.
Safety & warning & transportation of Polystyrene
Following GHS, Polystyrene is not classified as a hazardous material. The inhalation: get them some fresh air; if symptoms persist, see a doctor. Skin: Use lots of water to wash the skin. If medical attention is required, get it. Do not apply ice if molten material comes in touch with the skin; instead, cool beneath the icy water of a running stream. DO NOT make any attempts to remove the substance from the skin. Severe tissue injury may occur during removal. Please get help from a doctor right away. The availability of a safe, adequately equipped emergency shower is a must. To care for your eyes, run water over them for a few minutes. After the first minute or two, continue flushing for many more minutes without removing your contact lenses. If these side effects persist, see a doctor, preferably an ophthalmologist. Swallowing: Get medical help if swallowed. Potentially obstructive to the digestive tract. Transportation of it requires no additional procedures.